Montreal Transportation
WALKING AROUND MONTREAL
One advantage of staying in one of our downtown condo rentals is that you can pretty much manage to get around just on foot. Groceries, restaurants, shops, schools, clubs and bars are generally within walking distance. See a map of our condos and what is nearby.
BIXI BICYCLES (SUMMER/FALL ONLY)
In the summer Bixi Montreal bikes are available for rent. You can see more details on their website here.
DRIVING
If you are driving around Montreal, then you'd only be worried about finding parking spots. Here's a useful link about the parking zones, parking meters and rates around Montreal.
STM: PUBLIC MONTREAL TRANSPORTATION (BUS AND METRO)
If you are planning to use public transport to get around Montreal, that means using the buses and metro. But we've narrowed it down, to the following below (what most people will likely end up using):
$3.25: 1 trip

— The 1-trip ticket is valid for one trip.  You may transfer between metro and bus lines. This is the only transit fare that may be purchased aboard a bus (exact change required).

$6.00: 2 trips

— It is more economical to purchase a 2-trip ticket because you avoid waiting in line again to purchase your second fare card and the per-trip cost is $2.75 instead of $3. The 2-trip ticket is valid for two trips.  You may transfer between metro and bus lines.

$18.00: 3 Day Pass

— Unlimited travel for three consecutive days. This transit fare is valid for three consecutive days from the time it is validated. Example: validation at 10 a.m. on Tuesday, expiry 11:59 p.m. on Thursday.

$82.00: Monthly CAM Pass

— Unlimited travel for one month. This transit fare is valid from the first to the last day of the month.
For further details you visit the STM web site, which also has information on the 747 Airport Bus (named after the 747 plane) which can be useful for those coming from the Montréal–Pierre Elliott Trudeau International Airport.
Also, here's a handy map of the Montreal STM metro system: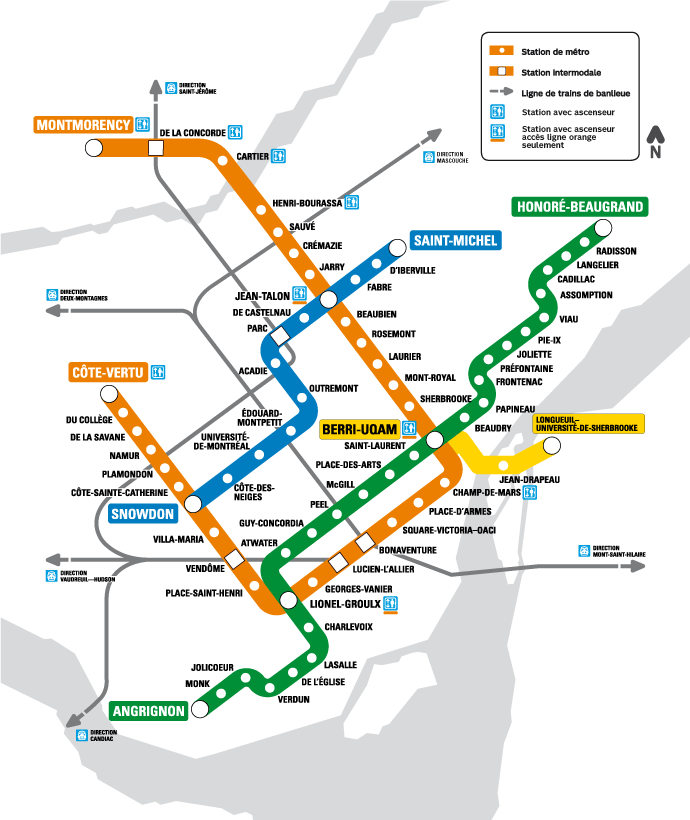 BUS TERMINAL
The bus station terminal (Gare d'autocars de Montréal or Montreal Bus Station) is located downtown, also nearby the Berri-UQAM métro station.  The bus station is not to be confused with the train station (which is also located downtown) called the Gare centrale or Central Station,  which is close to the Bonaventure métro station (orange line).
MONTREAL TAXIS
Call or flag down a taxi. There's a fee when you get in the taxi, and the meter runs the farther and longer the ride. Taxi rates are fixed at $40 from the airport to downtown (Limousines are $55/60). Note that a 10-20% tip is common.